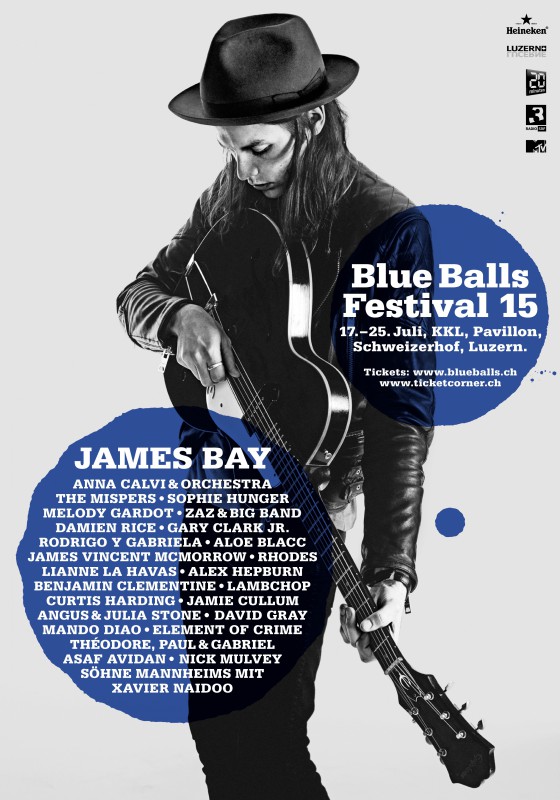 DANKE.
Das Blue Balls Festival 15 schloss sehr erfolgreich ab.
Die Schweizerin Sophie Hunger stand als Letzte auf der grossen Bühne und macht mit einem eindrücklichen Konzert klar, dass Sie internationales Format hat.
Acts wie James Bay, Damien Rice, Söhne Mannheims, Mando Diao, Melody Gardot oder Jamie Cullum begeisterten das Publikum in einem sehr gut besuchten KKL Luzern. Mit Shows von Benjamin Clementine, Nick Mulvey, Rhodes, Gary Clark Jr. oder James Vincent McMorrow präsentierte das Festival auch vielversprechende neue Talente.
Auch auf den anderen Bühnen gab es viele interessante Acts zu entdecken und mit dem Auftritt von Lo&Leduc war der Ansturm der Besucher auf dem Pavillon-Areal enorm, aber alles verlief ohne Probleme und sehr friedlich.
Das multikulturelle Musik- und Kunst-Festival bot verschiedenen kreativen Kunstformen eine Bühne. Neben Musik, Fotografie, Kunst, Video und Film fand täglich eine Talkshow statt die sämtliche Künstler des Festivals zusammenführte.
Weit über 100'000 Besucher pilgerten rund um das Luzerner Seebecken und genossen die einmalige, wunderschöne Stimmung.
Blue Balls Festival 16, 22. – 30. Juli.
THANK YOU.
The Blue Balls Festival 15 has been a great success.
The last artist on the main stage, Swiss singer Sophie Hunger, made it clear with her impressive performance that she effortlessly holds her own in the international music scene.
James Bay, Damien Rice, Söhne Mannheims, Mando Diao, Melody Gardot, Jamie Cullum and many others thrilled their audiences, which showed up in droves at KKL Lucerne. And shows by artists such as Benjamin Clementine, Nick Mulvey, Rhodes, Gary Clark Jr. or James Vincent McMorrow demonstrated that the Festival is also a fabulous showcase for up-and-coming talent.
Which isn't to say that there wasn't a great deal to discover on the other stages too. Take Lo&Leduc, for example, who filled the pavilion area to capacity in no time, and then managed the feat of keeping things nicely cool and mellow with their fantastic show.
The Blue Balls Festival, a true multicultural music and arts festival, provided a stage for a wide variety of creative undertakings: photography, art, video, film, music, of course, and not least of all a daily talk show which brought all of the Festival's artists together.
Far more than 100,000 visitors flocked to the Festival's premises on the shores of Lake Lucerne and enjoyed the beautiful, one-of-a-kind atmosphere.
Blue Balls Festival 16, July, 22 – 30.